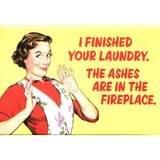 Confession: I get no gratification at all from providing my family with clean laundry.
I do not like doing laundry. I mean I really, really, do not like doing laundry. There are days where I feel like I would rather gnaw off my own arm than sit and endlessly sort and pile, fill the washer, fill the dryer, fold, put away, and repeat. Can anything get more
monotonous
? No really, I want an answer here!
Hubby says that if I just do a load every day I will always be caught up. Sure, in theory that seems like it might work. But, let's face it, the law of supply and demand is just not working here. They are demanding more and more clean clothes, and I've got a limited supply to give them. I try to keep up. Some days though, I just do not have it in me to even put a load into the wash. Why? Because it is a commitment. It's saying that not only will you put this load in, but that you will also pull it out and put it into the dryer. Once you've committed to that you must commit to helping it out of the dryer. And if you've come that far, well, now you've vowed to fold it all up and put it away too. Doing a load of
laundry
my friends is a serious commitment. And it is not as if there is ever just one load to do. Who gets to have clean clothes today? Oh decisions, decisions!
And while I
enjoy
having fresh, clean clothes for myself
and
my family as opposed to dirty and smelly ones, I still
find
little gratification in the result, and none at all in the process. Cleaning the bathroom, gratifying. The shiny bowls, the fresh smell, the smooth and hairless floor. Even if it lasts only for an hour, I
enjoy
it while it lasts. Cleaning out the
refrigerator
, gratifying. Getting rid of anything old and moldy (although this seldom happens with the eaters in my home), wiping the shelves, putting everything in it's place, making room for the fresh, new foods that will soon dwell there, that is gratifying. I even like dishes. I love being able to see the bottom of the sink. It is clean, it is shiny, it is dish free.
Victory
!
Perhaps that although I
know
with the first shower my bathroom will be ruined, or that minutes after I clean the dishes, someone will want a snack, I still feel as though for that all too
brief
time the work is
done.
But laundry,
ahhh
laundry
, you my friend are never, ever, ever, done. Because even if by some miracle you have every single
piece
of clothing in your house cleaned and put away, unless your family is roaming around naked, there is laundry somewhere that needs to be done!!
And so my dream is this- a day where everyone must remain naked for one hour. You can
stay
in bed,
hide
in the closet, or be bold and plop on the couch to watch T.V. if you want. But during that time I plan to do clean, dry, and put away every
piece
of dirty clothing in the house. Each and every sheet, towel, and pillow case shall be done. Every bathrobe and washcloth and dishrag will be clean. And for those very few minutes at least, I will be able to say that the
laundry
is at last
done.